One year ago, on the 19th of December 2019, Father George Metallinos, Professor and former Dean of the Athens University's School of Theology, reposed in the Lord.
The in-Christ Dormition of Fr. George was a huge loss for Hellenism, the Church, and for Orthodox Theology. Fr. George was a very significant Academic Teacher and Patristic theologian, who was an honour to the Sacred Clergy and in general to the Orthodox Church.
He was always present, during all the struggles of the Nation and of Orthodoxy, with his scientifically and theologically valid and substantiated positions, which powerfully supported the preservation of the Greek Orthodox identity and self-awareness, both in the Church and in Education.
Those of us who had met him and became acquainted with him, but had also read him and listened to him, are very much aware of just how much we miss his vast offer and his dynamic presence, as well as the genuineness of his various interventions in support of the Orthodox Faith.
Among other things, the blessed Fr. George had bravely, boldly and with powerful theological and educative words supported the Orthodox character and orientation of the Religious Studies lesson of the school curriculum, and had vehemently opposed the attempts by some to alter it and convert it to a multi-religious or a neutral-religious lesson.
The Pan-Hellenic Association of Theologians expresses its profoundest gratitude and the thanks of all of us to the blessed Clergyman and Teacher, for the struggles, the testimony and the confession that he always gave throughout his life, for the Orthodox Church, Theology and Education.
We are certain that he now is laid – vindicated - close to the One to whom he had dedicated his life and his work.
For the Orthodox Christians who visit the city of Corfu, it is worthwhile - as a small token of honor and gratitude - to visit the Holy Monastery of Platytera (inside the city) and light a candle at the resting place of the blessed Fr. George, which is inside the inner narthex of the Monastery's Katholikon (main church). Also buried there – apart from the Monastery's Hegumens (Abbots) – are the Metropolitans Sebastian, Alexander, Methodius and Polycarp, and the great Governor and Benefactor of Greece, Ioannis Kapodistrias, as well as the scholar and politician of Corfu, Andreas Moustoxidis, and General Fotis Tzavelas of Souli.
May his memory be eternal, and the Most Benevolent Triadic God repose him "in the land of the living and in the camps of the righteous".
The Board of Directors,
The Pan-Hellenic Union of Theologians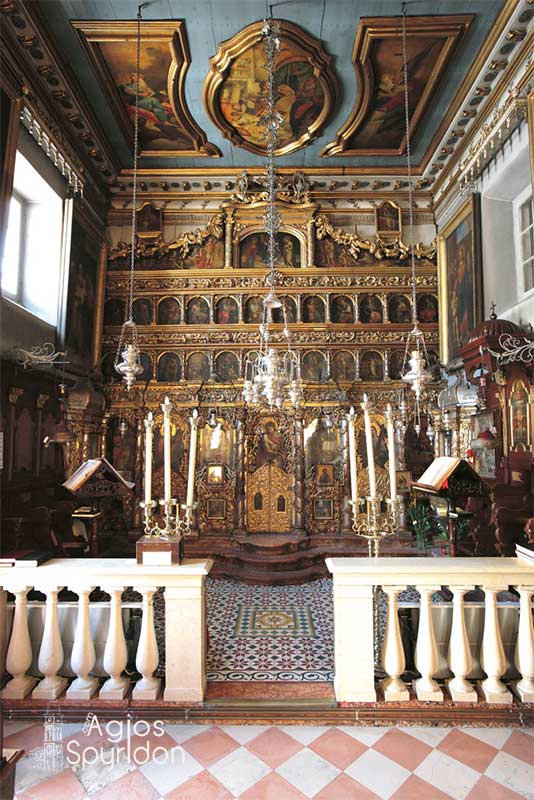 Interior of the Church of Platytera Monastery