On the Saturday before the Sunday of the Last Judgment the most Divine Fathers appointed a commemoration of all those who, from ages past, have piously fallen asleep, in the hope of resurrection unto life eternal.
Since it often happens that certain people suffer death prematurely, in a foreign land, at sea, on trackless mountains, on precipices, in chasms, in famines, wars, conflagrations, and cold weather, and all manner of other deaths; and perhaps, being poor and without resources, they have not been vouchsafed the customary psalter readings and memorial services, moved by love for mankind, the Divine Fathers ordained that the Orthodox Catholic Church make commemoration of all people, a tradition which they inherited from the Holy Apostles, in order that those who, due to some particular circumstance, did not receive the customary obsequies individually, might be included in the present general commemoration, indicating that whatever is done on their behalf confers great benefit on them.
This is one reason why the Church of God performs the commemoration of souls.
A second reason is that, since the Fathers intended, as is fitting, to assign the observance of the Second Coming of Christ to the following day, they appointed a commemoration of all souls on this day, as if propitiating the dread and unerring Judge to show them His innate compassion and place them in the promised Paradise of delight.
A third reason is that, since they intended to expound the banishment of Adam on the following Sunday, they devised the present commemoration, on this day of rest, as a respite from, and end of all human affairs, so that they might start from the beginning, that is, the banishment of Adam—for the final event that we will experience is the examination by the impartial Judge of all the deeds that we have committed in our life—and so that, putting fear into men thereby, they might make them ready for the contests of the Fast.
We always commemorate souls on Saturday, because Sabbaton (Sabbath) means "rest" in Hebrew; and since the dead have rested from worldly and all other cares, we offer supplications for them also on the day which means "rest." It has become customary for us to do this every Saturday. On the present Saturday, we observe a universal commemoration, beseeching God for all the pious.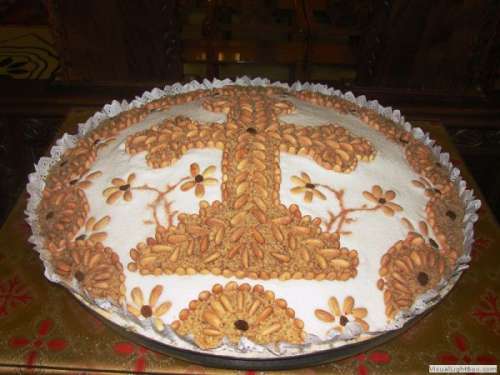 Wheat offering for commemorating the souls of the deceased