Moscow, April 22, Interfax – Daughter of the richest Guatemalan resident and a former Catholic nun founded an Orthodox monastery in the mountains by the Amatitlan Lake near one of the most active volcanoes of the Pacaya Region.
Until her 36th birthday, Mother Superior of the Holy Trinity Monastery Sister Ines was a nun in a Catholic monastery. However, when she got acquainted with life of St. Seraphim of Sarov, her life was changed and the woman started reading the holy fathers and then converted to Orthodoxy, the Trud-7 paper wrote on Thursday.

"Speaking to the point, I feel confident in Orthodoxy, I feel tranquil and I feel…a kind of stability. My soul is calm in Orthodoxy," Sister Ines said.

The Grand Orthodox Church of the Holy Trinity in Guatemala is protected by a high fence and controlled by the security service armed with pump rifles and automatic pistols. Local residents say that security service consists of former criminals.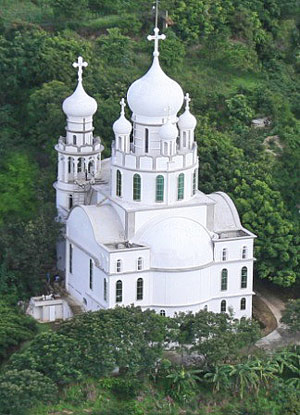 The katholikon of the Monastery of the Holy and Life Giving Trinity, the "Lavra of Mambre"
Once, Guatemala criminal groups had asked a fee from Sister Ines "for protection" of her monastery, but eventually they volunteered to protect the church and its surrounding territory.

Ines's father, local oligarch and a well known in Guatemala economist, bears the major part of financial expenses connected with the church building. First, he was against his daughter's decision to leave Catholicism, but then at the age of 84 he converted to Orthodoxy himself.